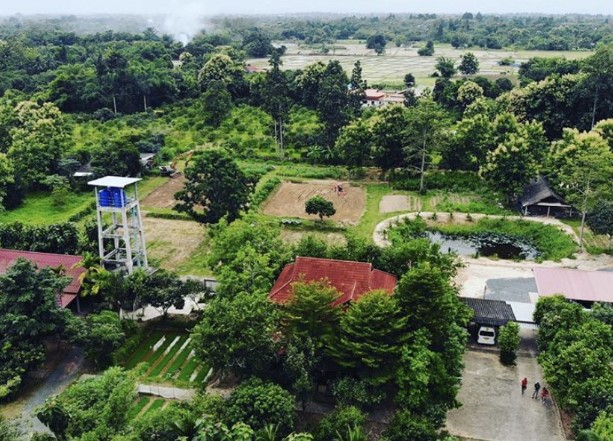 At our Thai organic farm cooking school, we are using nature to protect our crops and vegetables. It is important to know where to grow what tree in order to keep it free from bugs without using chemicals. Everything is 100% organic because we want to stay healthy and teach others how to do the same.
Modern chemical dependent farming has high ecological costs, is bad for the health of the farmer and his family and affects the health of the people who eat the food. And most importantly pesticides do not work! Every year the pests grow resistant to the pesticides and the soil fertility falls.
Thai Farm Cooking is an integrated organic farm. We grow rice, many herbs, vegetables, fruit and trees all together on the same land. We grow everything organically without using chemicals and pesticide sprays. Our farm is a Thai family farm where we grow all different ingredients for our own use and for our cooking classes. We are not a commercial farm, where they grow one crop in large quantities.
In former times, Thai people didn't use pesticides. They grew by nature, what makes the vegetables not only more healthy but also more tasty. Organic products contain higher level of vitamin C, protein and other minerals and have less water and less artificial chemicals. Thai people could control the insects by growing many different herbs mixed together.
This is what we do at our farm, and the reason why we have established our Thai cooking school, to teach you about REAL Thai farming like farmers did before!